10 Tips from the Pros
Taking action now will save yourself from unnecessary hardships during future tenancies. Reduce future headaches now and make your home "Tenant Proof". These tips from the Pros will save you time and money in the long run!
1. Glossy Paint- Flat paint is cheaper and looks nice…at first.
During a yearof tenancy, however, every scuff mark and handprint will remain, leaving few options to clean. Glossy paint, on the other hand, can easily be wiped down to remove those unsightly marks. Your total investment may add to your budget but it's definitely worth it when you find that you don't need to repaint in between each tenant and a single paint job could last up to 2 or 3 tenancies.
2. Door Stoppers and Wall Bumpers- Practically a no brainer. Each and every door needs a stopper or wall bumper behind it, otherwise you will end up with doorknob shaped holes in the walls, behind every door.
3. Hard surface flooring-Choose your flooring carefully, avoiding carpet if you can. Do some research for the most durable flooring to fit your budget. If you install hardwood floors, make sure and provide instructions to tenant for proper care.
4. Light Fixtures with pull chains- It's easy for these types of fixtures to break by being pulled straight from the fixture or stripping it from the inside. Using a fixture with a wall switch is your best option.
5. Proper Insulation- Adding this important energy saver reduces the chance of tenants trying to add insulation themselves and causing undue damage. Proper insulation also saves you money on heating and cooling costs in between tenants.
6. Towel Bars and Shelving- Take that extra time to find a stud and attach it properly using wall anchors and longer screws, otherwise, the chance of it falling or being pulled down might leave unsightly and costly holes in the walls.
7. Landscaping- While curb appeal is important, rental properties do not need complicated landscaping. Choose low maintenance shrubs and greenery and make sure their lease reflects their responsibility to maintain. Don't spend too much extra money to make the yard beautiful. Many tenants tend to neglect this aspect of tenancy so you could be left with dead flowers and shrubs.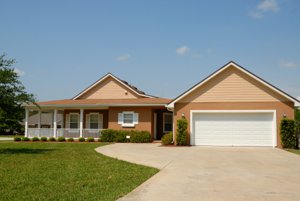 8. Shoe Racks- Set a precedence. A shoe rack stationed at the front door during showing appointments relays the message that "This home is nice, we take our shoes off on the way in". Keep it there after move in and of course, while you can't make them take their shoes off while they live there, they may be more likely to use the shoe rack if it's available to them.
9. Countertops and Cabinets- Heavy duty is always best. Installing good Formica countertops and real wood cabinets stand the test of time and hold up well with the daily wear and tear from your tenants.
10. Doors and Windows- Make sure all the entry and exit points work properly and all failsafes should be checked to make sure they won't break if a tenant starts messing with them. Window locks, springs, and all door handles should lock properly and ideally, not be flimsy.
"Tenant Proof" rentals not only help you save time and money but they also offer tenants the ability to keep the home in good condition with less maintenance calls and less hassle for you, the owner. If you have questions about preparing your rental home, we are here to help so give us a call, we'd love to chat!